Smith Joins Palomar Insurance in Georgia
Palomar Insurance has added Reese Smith, III to its expanding sales team as an acount executive specializing in the transportation industry.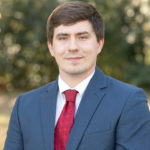 Smith has experience with trucking insurance and personalized service and will work to assist clients in understanding their company's risks and acquiring the right coverage.
Smith will join the team in its Kennesaw, Ga., office working in the transportation insurance group.
Palomar Insurance delivers insurance programs to U.S. and international companies. It is headquartered in Montgomery, Ala., with offices in Georgia and Tennessee.